Digby Church of England Primary School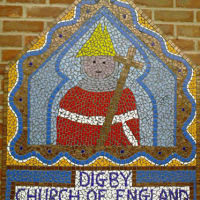 Digby Church of England Primary School is set on the edge of the idyllic village of Digby. We cater for children from the ages of 4 to 11 within our three classes.
Digby Primary is very proud to be a church school. Our Christian values of Success, Happiness, Inspiration, Nuture for Everyone underpin everything that we do. We have very close links with Digby St. Thomas' Church. In February 2015 we had a Church Schools (Section 48) inspection and we were graded as 'Good' in all areas. You will find the report on our website.
The school has interactive panels and computers in each classroom. Outside there are two playgrounds, a large sports field, a foundation stage outdoor play area, a story-telling area, a gardening and a wildlife area and an outside classroom.
Digby has both a Breakfast Club and After-School Childcare for 3 hours each evening.
The Spires Federation is wonderful for all of the schools as it opens up a wealth of learning opportunities for the children beyond what each school would be able to offer as one small, rural school. The staff and children in all three schools work closely together, sharing expertise and resources, ideas, events, visits and workshops.
The Executive Headteacher shares time over the schools and focusses on developing the schools further in terms of leadership and management. Each school has a Deputy Headteacher who leads the school when the Executive Headteacher is off-site. At Digby the Deputy Headteacher is Miss Winters.